Representation - Australian & New Zealand Sales Agent (Industrial Division)
Softing Industrial are part of the global Softing AG Group. Their industrial automation division is responsible for implementing and improving digital exchange processes in industrial applications. Softing specialize in creating products and solutions that connect disparate automation components and feed data from the shop floor to the cloud for control and analysis. Their goal is to deliver data connectivity and network health solutions for industrial automation, allowing customers to optimize data flows throughout their plant.

Transtek offer the Softing range of products and solutions designed specifically for configuration of process control field devices.

The Softing mobiLink is an intrinsically safe, multi-protocol, mobile commissioning and maintenance interface for field devices. The mobiLink modem provides a single communication solution for HART, Foundation Fieldbus and PROFIBUS process automation protocols.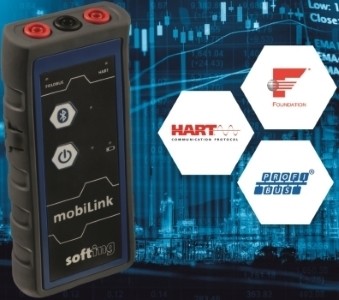 Softing's Industrial Automation HQ is located in Haar, on the outskirts of Munich, where they have their R&D, production, sales and service facilities.
Softing Industrial Automation GmbH
Richard-Reitzner-Allee 6 85540 Haar, Germany
Telephone: +49 89 456 56-340
"